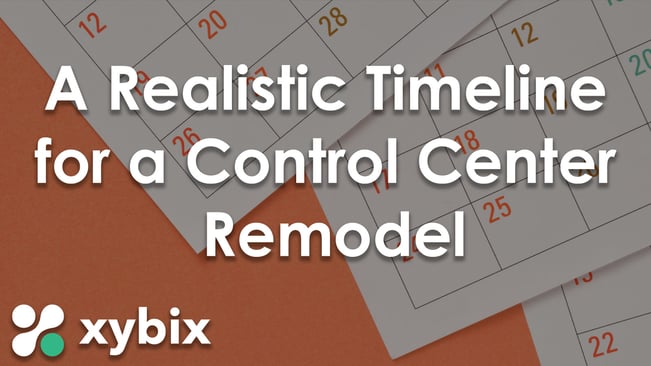 To achieve a goal—like launching, expanding, or remodeling a control center or dispatch center—you need to start with a realistic completion date. Without this target date and supporting milestones, you have nothing to aim for and nothing to hold you accountable. The timeline will be as custom as your project, and can range anywhere from 4 months to 4 years. The typical timeframes here can help you get started.
Initial Meetings: 1–4 Weeks
Meet with representatives from furniture solutions vendors to share your needs, wants, and dreams. This is a great opportunity to see all the latest products and innovations while learning how each vendor approaches a project. Plus, if you need to get a budget approved, this will help with estimated figures. (In all likelihood, you'll have some downtime while the expenditure is approved. During this time, you might tour nearby centers that have completed a remodeling project.)
Design Process: 3 Weeks–1 Year
The design process includes reviewing your equipment and circulation needs, selecting the workstations/consoles, planning the space, and reviewing plans with the designer and everyone involved. Typical timelines include:
Preliminary Design: 2 weeks from the first site visit

Design Review: 3 weeks to 1 year depending on the responsiveness of reviewers and the level of changes
Reviewing and fine-tuning the design ensures that the workstations/consoles and space plan work for years to come. The designer may capture your project on the first draft but in general you will go through 2–3 revisions.
TIP: If you're launching a control center or dispatch center from the ground up, get a professional furniture designer involved with the project manager and architect as soon as possible. The designer can offer helpful input on the square footage needed.
Finish Selection: 1–4 Weeks
Selecting colors and finishes that complement your space should be the easy part. Sometimes it is, sometimes it isn't. When purchasing new consoles/workstations, most centers take the opportunity to update flooring, window coverings, and paint, so the selections and approvals can take some extra time.
Procurement: 1 Week–6 Months
The procurement time will depend on if you're going out to bid or can purchase off a contract. Buying off of a contract or sole sourcing can save a ton of time, but it may depend on your organizations' agreements.
PO and Sign-Off: 1–4 Weeks
The amount of time involved in your PO and sign-off process is largely dependent on your purchasing department. Ask in advance so you know how long it takes and can plan ahead.
Production: 8 Weeks
Most furniture manufacturers can cite a standard lead time for producing and installing orders. Manufacturing time will vary based on the project. The earlier you complete the contract and submit a signed order, the better you can plan ahead.
Installation: 2 Days–4 Weeks
The installation time is dependent on the size of your project. Most companies can install around 2 complete workstations/consoles per day. They will add additional installation crew for heavier projects.
Add up all these times and you'll see that 16 weeks is about the bare minimum for completing a control center or dispatch center remodel. Projects can easily take up to 60 weeks (aka, just over a year), depending on internal processes and deliberations. And, of course, all these timeframes may have dependencies such as completing flooring or electrical and data runs before installation. On the plus side, you'll likely get 10 to 20 years out of your new consoles/workstations even with 24/7/365 use.
For help planning your next remodel—including help with project management, budgeting, space planning, and design—please reach out to us at Xybix anytime.