Out with the 'Old' and in with the 'New'
Sitting at your desk, looking at computer monitors or having a job that requires sitting for extended periods of time, can cause a great deal of physical stress on your body. Unfortunately, this type of sedentary work is all too common in industries such as 911 dispatch, security, public safety and more.
Security surveillance consoles in places like casinos, schools, colleges, and hospitals seem to lag behind the modern day advancements of the ergonomic furniture comforts of today. There have been many advancements to console features which can increase user comfort, ergonomics, support, and overall health. Let's explore these advancements and discover why some security consoles fall behind where they should be.
Ergonomics, Health and Comfort
Ergonomics is defined as the science of designing equipment to maximize productivity while reducing fatigue and discomfort. Put more simply, ergonomics refers to how desks, workstations and chairs are constructed and how computers and accessories are arranged so that workers are more comfortable, less fatigued, and less prone to repetitive movement injuries.
Many public safety and police operations already provide ergonomically efficient workstations with height adjustability and U shaped or corner cockpit shaped desks. Going beyond just ergonomics, today's 24/7 consoles also offer users comfort controls and individualized lighting.
Today's security dispatch consoles tend to lack these common features which can provide better ergonomics and comfort for the users - reducing absenteeism, sick time and more.
Height Adjustable Desks and Workstations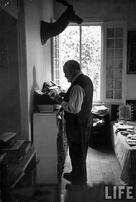 One of the most famous standing desk enthusiasts was Ernest Hemingway. Whereas Hemingway simply used a typewriter, today's workstations need to accommodate the many different pieces of technology necessary for public safety and surveillance.
The adjustable height tables of today have high lifting capacities for all of the computers, monitors and other equipment as well as a sturdy design and smooth operation. Ideally, updated security consoles should allow users to alternate between sitting and standing, as well as adjust screens for proper focal depth.
In order to provide users with easier viewing angles to multiple screens and keep frequently used items within the users reach zone a U-shaped or corner cockpit workstation should be favored over a straight workstation.
Most security consoles require personnel to have multiple monitors and screens visible at all times. How these monitors are arranged can make a difference to the comfort and efficiency of the employee. Keeping in line with proper ergonomic standards, arrange the monitors and screens on a single focal depth adjustment plane vs individual monitor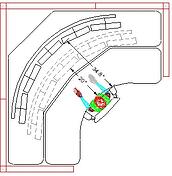 arms. The single adjustment plane will allow users to achieve the appropriate angles, avoid neck strain and fatigue, and reduce eye strain.

A good tip is to have the most used and most essential screens in the front position, and lesser used screens in raised or side positions. Having frequently used screens in secondary positions will cause stress and strain over time, and having monitor mounts on a single plane will allow for easy rearranging and will help ensure that changes can be made as necessary.


Making Good Choices for the Future

Planning for the future is an important element to be considered when choosing the right security consoles. Make sure that the options you have chosen will continue to be the best choices in five to ten years, and that major security console furniture pieces such as side tables and panel systems are flexible enough to accommodate for any future changes. Computers, software, and peripherals change frequently so having flexible security console solutions will help alleviate upgrade costs over time.
As you can see, there are several security console advancements that maybe you haven't heard of. But, whether you learned anything new or not, the main take away should be that those who work in a 24/7 environment such as 911 dispatch, security and public safety are alert, ready and comfortable to take on any situation.