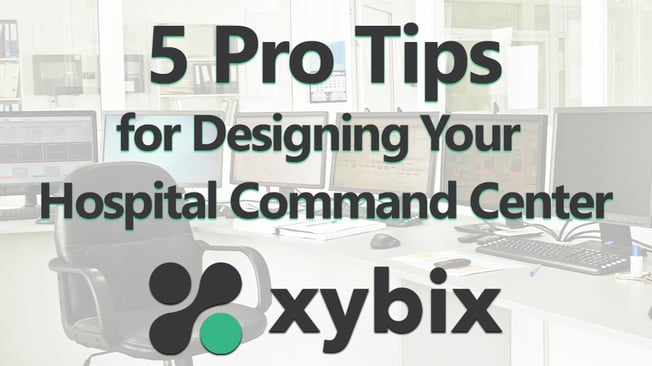 Given the importance of an efficient hospital command center to healthcare outcomes—and the significant costs involved—projects like this require an architect. Their expertise will help with walls, flooring, electrical, windows, and more to create a room that works for you. Even with their expertise, the architects and other vendors still need your input on how the room looks. This means where do the desks go, do you have a video wall, what about ancillary furniture to hold paperwork, lockers, etc.?
As you start the process, remember that hospital command centers have unique needs—needs that likely stray from our NASA-like visions of a command center.
Let's investigate the top 5 factors to think about when starting to design a hospital command center.
1. You are the customer. Do not be afraid to ask questions and give input on what you need to make it work. Vendors need your ideas and experience to get the room right. No question is dumb, and every idea you share will help make sure you get the room design right.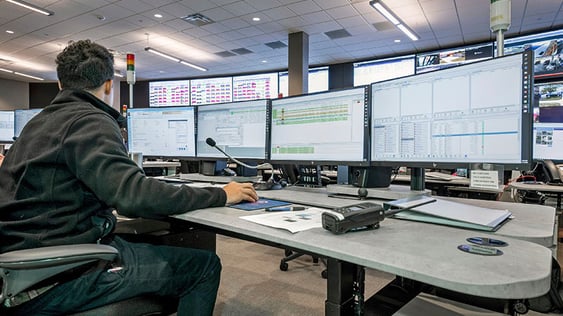 2. Work with a company that knows 24/7 furniture. This is not a place to use your office furniture contract. Office furniture companies do not build the durability and toughness required for shared desks in a 24/7 hospital command center. Warranties must include 24-hour use. Ask about the company's experience in command center rooms and what expertise they bring to your project.

3. Culture change is a big part of a new command center. One way to encourage the professional culture you want is with high-tech, high-performing desks. Look for a desk manufacturer that understands ergonomics. Missing the mark here does not reflect well on a team working in healthcare. Take care of them by looking at control desks that meet the ANSI-HFES 100-2007 ergonomic standard.

Also, look for the high-tech features that today's employees are starting to expect. Start with a desk that offers sit-to-stand flexibility and add options such as personal heating and cooling, clean cable management, and color-changing LEDs to help with the circadian rhythm of the operators.
4. A professional design service is an absolute must. I cannot stress enough how important it is to spend time with an interior designer and work on your room's layout. The layout is hard to change once the project is installed—but it's easy to change while you're in the computer design phase. Ask about the design services the furniture company offers. These days, the interior designers should be working on Revit or AutoCAD, and they should have a degree in interior design. Your job is then to have fun and work with them. Ask questions like:

Can we move that there?

What about putting the leadership team in the middle of the room?

Can we do a raised platform?
Questions like this will get you started in the discovery process. Be ready to talk about the specifics of the equipment: How many computers, how many monitors, what size are those devices? What about keyboards, mice, and any other input devices. This is where the designer will start helping you choose the base desk design. A well-qualified manufacturer of the desks will provide a professional design service—take advantage of that.
5. Involve furniture vendors early in the process. We have seen too many projects start with small office desks that hold only one or two monitors. This will not work in a hospital command center—especially considering how fast technology evolves. The last thing you want is to base the room size on desks that are too small. A rule of thumb for healthcare workstations is about 100 square feet (10 feet x 10 feet) per desk, which accounts for ADA regulations and circulation space. Be sure to consider all additional necessities—printers, filing cabinets, lockers, etc.—because adding them later will "shrink" the room before your eyes.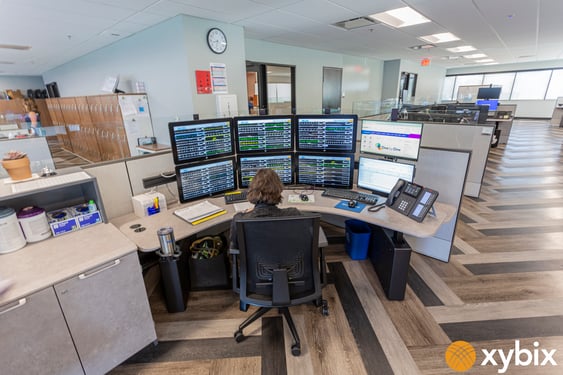 The world of hospital command centers is still young and growing. Xybix has 25 years of experience in 24/7 mission-critical environments, and we're ready to provide expert services in design, installation, and service.