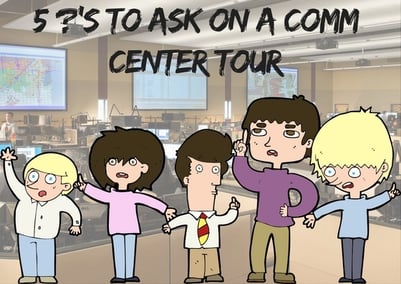 There are several different avenues available for researching new dispatch furniture, and sorting through them all can often feel overwhelming. Depending on how your center makes this kind of purchase, you might have to collect three or more quotes, purchase off of a specific contract, or even go through a bid process. It's also likely that a salesperson will visit your center with some literature and provide a proposal configuration.
Doing your own research during this time is critical, as it gives you as a buyer or an end user a good foundation to pinpoint your specific needs. One of the best ways to achieve this is by going on a field trip or Comm Center tour! Visiting neighboring centers or taking a tour at a national trade show are a couple of the most educational ways to explore furniture options, as you'll get to see the furniture in person and ask the staff and representatives questions about their experience with it.
To help you out, here are some key questions to ask when visiting a Comm Center:
1. How did you purchase the furniture?
Especially if you're visiting a neighboring center, it's important to network and see what purchasing options are available in your city/county. You might not be aware of grants or cooperative contracts available for furniture purchases, and information from a neighboring center can help steer you in the right direction.
In some instances, a bid process is mandatory. If this is the case with the center you're visiting, you can ask the center where they got the request for proposal (RFP). How did they determine the specifications? Who was involved in writing it? Where did they announce it? Who was involved in the review and award process? These details can take a long time to figure out on your own, so having someone who's already been through it give you all of the information at once can make the process much easier.
2. How did you hear about the vendor that you are using?
We generally find vendors online or at trade shows, but they can be recommended. On your field trip/tour, the center's staff may say that an architect, consultant, neighboring center, or even the radio vendor suggested a furniture company.
If this instance does come up, and the center's staff suggests a company to you, be sure to ask the following questions:
- Why would you recommend the company?
- What's their reputation like?
- Have you worked with the company before, and if so, are they transparent
and easily accessible?
Remember that if you're collecting a few quotes from different vendors, it's important to ask for a list of nearby references as well.
3. What was the design process like, and how were you involved?
In order to make a furniture proposal, the vendor will inevitably need dimensions of the communications room. Find out if the center you're visiting had to send an autoCAD to the vendor or schedule an onsite visit. Maybe they put the furniture vendor in contact with the architect, and the two parties worked on the design together. Ask about the pros and cons experienced when working with the vendor, and also ask how and why the center decided on their final layout. Sometimes you have a dream configuration in mind, but desk sizes or ADA compliance regulations might conflict with the layout. The final configuration could also have been a suggestion by a designer. It's important to find out how much you will be involved in the design process as well as how revisions are made.
4. Are there any features that your vendor offered that other companies could not?
Being height-adjustable is pretty standard for dispatch furniture these days, and most companies boast a high lifting capacity as well. The devil is in the details! Ask about specific features, such as cable management, monitor arrangement, and CPU enclosure. Find out if there are any proprietary features to the company, and also ask the center's staff about any pros and cons associated with the product or the vendor. If you can, bring your IT person with you, or have them prepare a list of questions that they would like answered as well.
5. How is the customer service and warranty?
Is the warranty a pass-through of the original equipment manufacturer (OEM)? This means that the OEM offers a warranty to the console manufacturer. The console manufacturer "passes through" the warranty terms, definitions, and limitations directly to you. Some have a maximum term allowed of five years, and others specify no particular year term and enforce the terms of the pass-through. The warranty could also be multi-faceted, which means it has various warranties per parts integrated. The terms can vary depending on the parts incorporated with your order and whether or not your order includes OEM buyouts.
Be sure to ask the center about the interaction with the customer service team as well. Is there a direct line, or did you contact the salesperson? How quick were they to respond? Were they easily accessible by phone, email, or both? The sales process when buying the furniture is important, but their customer care after the install matters too. Make sure that you're working with a company that will take care of you long after they receive the purchase order.
Coming to a Close
These questions should help guide the conversation when you're visiting an Comm Center installation. If you have the chance to go visit a center or send some of your communicators on a field trip, you'll get the real world advice. It's great to ask the obvious questions about the overall level of satisfaction with a vendor, but make sure to get into the nitty gritty details of the whole process from start, finish, and after!