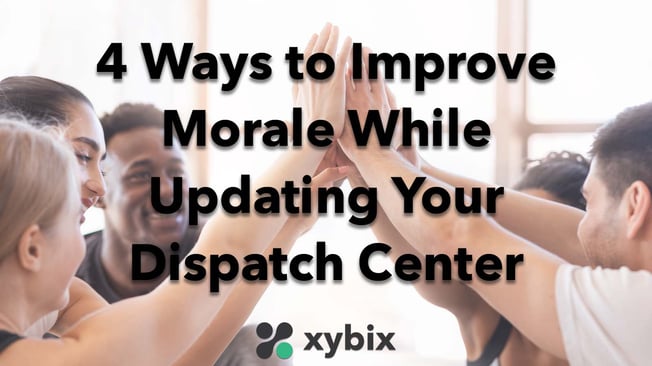 It's easy to say that creating a nicer workspace improves morale—but can you prove it? Tina Buneta can.
As the director of the Aurora911 Center, which serves the third largest city in Colorado, she's lived this experience more than once. With more than 20 years of experience in emergency services—and a two-time Xybix customer—she easily shares how rundown surroundings can play a heavy role in how people show up for work, including their mindset, resiliency and job satisfaction.
"We realized it was time to give the center an uplifting facelift to bring some energy into the center and, really, to help all of the members of our team feel like we were investing in their work experience," says Buneta. "Be intentional about designing how a workplace environment (the physical environment) plays into the overall employment experience for an individual," she advises.
She's not the only one with this opinion; as we read in Forbes: "A quality workspace design leads to a less stressful and more productive atmosphere. It's essential that employers take the physical work environment of their employees into consideration. Employees need to feel comfortable and calm in their physical work settings to produce their best work."
After interviewing Tina Buneta, we realized it's not about the bells and whistles on our consoles—although people love them. A successful redesign is all about working together towards a welcoming space that improves communication and job satisfaction. Read on for how the process and results can improve morale.
Work Together on the Project
According to Buneta, working together to create a fresher and more functional space served as a team builder. "I just really feel like we have melded into a team through this whole process," she says. "It's been a very positive experience." In addition, continuing to take critical calls and dispatch resources while planning the new space required collaboration, communication, cooperation and respect among team members.
Break Down Barriers in the Floorplan
Buneta encourages 911 centers to consider their long-term goals for designing a new center—beyond "aesthetics and newness." For Aurora911, she realized the many of their discussions centered around eliminating the physical separation among call takers, police dispatchers and fire dispatchers. Therefore, a "huge part of the planning process" involved creating a floorplan that supports closer interaction and integration along with overall improvements in wellness and team cohesion.
Choose Calm Colors
To create a calming environment that helps alleviate stress, the Aurora911 Center focused on light, earthy, warm color schemes for the consoles, office furniture, paint and artwork in the space. Although Buneta admitted that choosing colors by committee "would have taken us a year probably," she did seek input on color and design during the pre-planning process. Plus, she was sure to share the finalized plan and colors with the entire department. Buneta built trust by keeping employees informed about the colors, and she selected colors that reduce stress for the long-term benefit of employees.
Manage the Change
Maintaining—and even raising—morale while undergoing significant change is a challenge. It can be even more challenging in a 911 center where the calls keep coming during a "huge disruption" such as a remodel. Buneta says preparing the staff for the whole process, including what is going to happen when, is the key to keeping spirits up while providing uninterrupted service to the community.
"The important part from my perspective as a director was just to be very open and transparent with our team—particularly our leadership team, who would have to navigate the movement and plan for where everyone would be situated and how those workflows would continue during the disruption."
Straight from the Director
Watch our interview with Tina Buneta to hear directly from her on how to plan a successful 911 center remodel: