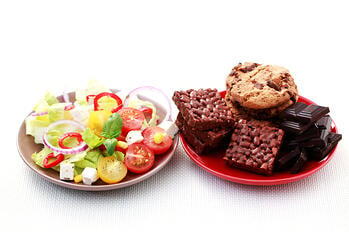 Recently, Xybix has been lucky to hear many remarkable stories of weight loss, diet and exercise from 911 dispatchers who have stopped by our booth at recent tradeshows. We're truly happy for your successes and thrilled to hear that so many 911 dispatchers in the industry are focusing on their health!
At one recent tradeshow, I was speaking with a dispatcher about food, and the struggles of eating right in the dispatch center, with a high-stress environment and shifts that often last 12 hours or more. If you are like most dispatchers, many — if not all — of you end up eating meals at your desk, which makes complete sense when you're working such long hours!
With this conversation fresh in my mind, I started to think about some healthy eating tips of my own that I could share with you in an effort to open the healthy eating dialogue in the 911 dispatch community. Although I do not personally work 12-hour shifts (I don't know how you all do it!), I do frequently eat at my desk and am always trying to eat healthier and be healthier. (Please note, this blog is purely my own suggestions. I am not a certified nutritionist or dietitian.)
So, how can you eat healthier at work? What are some simple ways to cut calories while still fueling those long hours? Here are some quick and easy ways to start eating healthier and being healthier.
ADD A SALAD
We all know salads are some of the healthiest meal options we can enjoy. And with plenty of fiber, with the right ingredients, a salad can really fill you up. Anyone who has dieted or tried to eat healthy inevitably has replaced a meal (or maybe two, if you're really ambitious) with a salad. And while at first that bowl full of leafy greens may look appetizing, eventually it may lose its appeal or sometimes, even its healthiness. Here are a few things I've tried to keep my salads "fresh" and healthy:
Opt for oil-based dressings, such as vinaigrettes, instead of heavy, creamy dressings, like ranch or honey mustard. In addition to getting a serving of "healthy fats" present in oils, you'll also save on calories.
Aim for about 1-2 cups of salad with about two tablespoons or less of dressing. (If you have to ask yourself if you would like some salad with that dressing you're having, then you're using too much!)
Add chicken, fish or nuts for healthy protein that fills you up, so you don't find yourself searching for something else to eat.
For added variety, switch up your greens. Try romaine, spinach, or mixed greens.
Keep it fresh by looking for new recipes on Pinterest, Eating Well, Dr. Oz, or your favorite healthy-eating website. (Oh, and don't let those naughty images tempt you — search for keyword "salads" and don't stray!)
PROTEIN POWER
Protein is found throughout the body — in muscle, bone, skin, hair, and virtually every other body part or tissue. The Institute of Medicine sets a wide range for acceptable protein intake — anywhere from 10 to 35 percent of calories you eat every day should come from protein, depending on your activity level. So how can you choose healthy (non-boring) proteins that will keep you energized during your shift? Try these 5 quick tips:
Stay away from processed meats (lunch meat, deli meat, ham, sausage).
Eat a variety of high-protein foods (unsalted nuts, eggs, turkey, chicken, beans, skim milk).
Eat some form of protein at every meal.
Prepare snack-sized protein "pick-me-ups" to eat throughout the day (peanut butter, low-sodium turkey jerky, Greek yogurt, string cheese).
MAKE SMALL CHANGES
The number-one thing to remember about getting healthy is that you don't need to overhaul your whole life. Small changes do add up and make a big difference in improving your overall health and well-being. Here are six simple tricks you can incorporate now that will make a difference:
Avoid takeout food! If you must order in, look for some of the healthy options that were outlined above. (Look for a future blog on healthier takeout options)
Pre-plan your meals. Buy your groceries at the beginning of the week and spend some time slicing vegetables and packing meals so you can grab-and-go.
Stay away from comm center treats. Ask that your center become a "sweet treats-free" environment. Removing the temptation to feast on donuts, chocolates and other less-than-healthy snacks can save a TON of calories (not just for you, but for your co-workers too)!
Surround yourself with other like-minded, healthy people who can support you in your journey to become healthier.
Drink water instead of soda. This may make the biggest difference in your overall health. For instance, if you replace your daily 12-ounce can of Coke with water every day, you'll save 51,100 calories per year. That adds up to about 15 pounds per year! Still need a pick-me-up? Try MiO a water enhancer with 0 calories and no artificial flavors. Or my favorite pick me up, BING!
Try using a pedometer, FitBit or other health tracker to keep track of your steps, calories and activity. Challenge yourself by trying to achieve more steps, distance, etc., every day!
Improving your health is not always easy, especially in the field of emergency dispatch. But judging from the dispatchers we have talked to recently, the end result of losing weight and feeling great are totally worth the changes you'll make. I hope that this blog has inspired you to try something different — something healthy — and we can't wait to hear about your great results!