The right equipment and setup can make all of the difference in getting any job done right, and the world of telemetry is no different. According to lab managers and project managers here is what their technologists are looking for:
comfort

ergonomic chairs

adjustable focal depth of 6-8 monitors

adequate keyboard workspace

clean wire management system
Comfort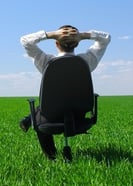 What exactly is comfort?
Comfort is being able to sit or stand throughout a shift.

Comfort is not having to reach outside of a reach zone to adjust monitors, answer the telephone, or reach for the binder.

Comfort is not having eye strain due to focal depth, poor lighting, print size, etc.

Comfort is sitting in a personalized chair.
Ergonomic Chairs

Any person who frequently works in front of a screen or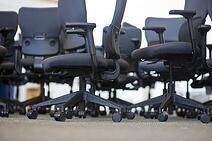 sits at a desk for most of the day knows the importance of a high-quality ergonomic chair. Here are a few tips on how to pick out a truly efficient chair:
Similar to shoes, chairs are personal. You wouldn't buy a pair of shoes without trying them on first, and it's important to keep this same concept in mind when shopping for chairs. (Pro tip: most chair manufacturers will bring several chairs to your facility for your colleagues to try out, meaning that you can ensure the products will work before investing in them.)

Chairs come in many sizes, designs and shapes. It's important to choose a chair that fits both you and the task at hand.

Lumbar adjustment is extremely important.

It's critical to be able to place your feet flat on the floor with your legs at a right angle without cutting off circulation at the knees.

Adjustable arm rests are a must.

In some cases, you might need a chair with a headrest.
Ability to Adjust Focal Distance

We all have different levels of vision. If we all had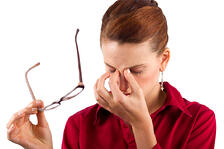 20/20 vision and our eyes were exactly the same, the focal distance on a monitor could be set at one static position. However, that is clearly not the case, and to further prove the point, here are a few real-life examples that highlight why the ability to adjust the focal distance is so necessary:
Some of us want the monitors set at 28" from our eyes at a 15 to 25 degree down angle to the center of the monitors.
Some of us want the monitors set at 18" from our eyes, and because we wear graduated lenses, we also need the monitors below our keyboard.
Some of us want the monitors set at 20" from our eyes with the center of the monitors at a 15 to 25 degree down angle to the center of the monitors.
You get the picture; eyesight can vary dramatically, so choose a telemetry desk that can provide individual height-adjustment between the keyboard and monitor surfaces, as well as focal distance adjustment, or the ability to move all of the monitors closer and farther at the same time.
Keyboard Workspace
Every part of a workspace should work in harmony to create the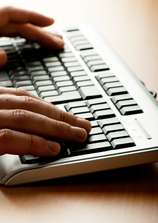 most efficient work-flow possible, and in telemetry labs, there are specific keyboard requirements to keep in mind in order to enhance both comfort and productivity, such as:
There must be enough space to accommodate 1-2 telephones, 1 binder, 1-2 keyboards, and 1-2 mice. Evidently, your standard 30" x 12" keyboard is just not going to cut it.

The keyboard surface needs to move independently of the monitor surface, and both need to move from 22" to 50" to accommodate the 5th percentile shortest person to the 95th percentile tallest person.

In order to reduce the spread of colds and other various bacteria look for desks which have an antimicrobial work surface.
Wire Management

Let's face it; if a sit/stand desk doesn't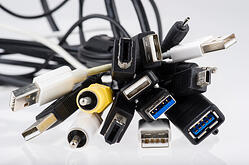 have a good wire management solution, technicians are just not going to raise and lower the surfaces in fear of disconnecting cables and bringing the system down. Here are a few reasons why a clean wire management system is important:
If technicians don't feel confident that they can seamlessly lower and raise their work surfaces in order to better accommodate ergonomic/health standards, the likelihood that they will develop pain and musculoskeletal issues increases.

Poor wire management also leads to fire code infractions.

Good wire management promotes aesthetically pleasing working environments, and since clutter can be a distraction in the workplace, organization can help with focus.
Are you a telemetry lab manager or a project manager tasked with remodeling your lab to include ergonomic sit/stand desks for your technologists? My advice to you is to do your research. Look for a telemetry lab desk that address your must-haves to promote comfort, good health, and better productivity.