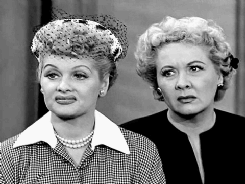 The new innovation in hospitals is to maximize the efficiency of registered nurses by implementing telemetry labs. This allows better, continuous oversight of patients' vitals, which frees up the professional staff to better physically care for their patients. If you are consider having one, make sure it is done with correct ergonomics.
What's the Ergonomic Issue With Telemetry Labs?
In the hospital, most telemetry lab space is currently set up with numerous groups of computer monitors where the technicians can monitor their patients. This has been traditionally done on prefabricated, built-in mill-work desks, which are anything but ergonomic! It is a well known fact that sit/stand desks are necessary to accommodating multiple users who are short, tall, and in-between heights. Placing the computer monitors on fixed-height desks is not only an ergonomic nightmare, it's asking for a workers' compensation claims!
How Do You Select and Set Up a Telemetry Workstation?
Below are couple of typical telemetry desks. As you can see, this setup requires the monitors to be mounted in a double-stacked fashion in order for each technician to be able to view multiple patients. Most labs consist of four to eight desks so that they can accommodate multiple technicians in the lab.
Because you'll need to accommodate multiple monitors, cables, telephones, printers, barcode scanners, keyboards, mice, KVM switches, speakers, routers, etc., you need to select a desk manufacturer that specializes in workstations built for 911 dispatch, control and command, and/or imaging centers.
The desks need to be able to handle the weight of all necessary equipment, be able to provide vertical and focal depth monitor adjustment, and be able to raise and lower for your technicians. Because your technicians will all be different heights, being able to adjust the desks to suit each individual person is crucial if you want to provide your technicians with a healthy work environment. Below is an example of how a Telemetry lab desk should look like.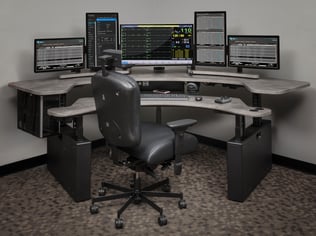 Key Take-Home Points
To summarize, here are the points you want to address when designing a sufficient, healthy, and ergonomic telemetry lab:
Look for true dual-surface ergonomic sit/stand desks to accommodate the short, tall, and in-between technicians.
Allow for at least 10 inches of focal-depth adjustment of the monitors.
Ensure adequate cable management. (Some setups require over 32 data cables to extend from the data outlets to the monitors on each desk.)
Seek out the ability to adjust heating and cooling at each desk. (The room will have a lot of equipment, and each technician will have different comfort preferences.)
Make sure there is enough storage of equipment.
Make sure the desk can handle the weight of all monitors, computers and any other required equipment.
Does manufacturer provide professional desk installation?
Ask about the parts and labor warranty details.
Choose a manufacturer with proven customer service.
Pick a manufacturer that has a history making desks for 911, control and command, and imaging centers. Always check references.