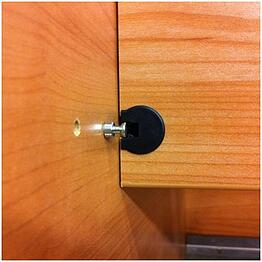 There's an ancient proverb that reads: "For want of a connector the shelf was lost. For want of a shelf the cabinet was lost. For want of a cabinet the workstation was lost. And all for the want of a shelf connector." Or something like that.
Our customers who have received new bookshelves, storage or CPU cabinets in the past month may have noticed something a little different about their adjustable shelves. Our venerable locking shelf connector has been discontinued by the manufacturer, so we needed to find a new solution. There are dozens of fasteners we could have used, but we wanted something simple, reliable — and better.
The old shelf connector worked great, but anytime you wanted to move a shelf you had to find a screwdriver, loosen all the connectors, move the shelf, and then tighten everything again. I will readily admit that these connectors sometimes needed to be gently "coerced" into their places with the help of a mallet.
Enter the shelf connector of the future! Now, the shelves simply snap into place — no tools required. The shelves are easily movable, but stable under heavy loads. To adjust, simply pop the shelf off the pins, move the pins to another set of holes and pop the shelf back down. No tools, no fuss, no "coercing". It's just another way Xybix strives to deliver the best possible solutions for our dispatch furniture customers.