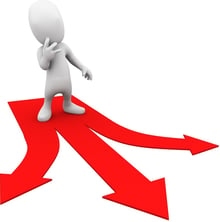 As a customer, you can and should expect high quality products, as well as a full service support team, when choosing an imaging furniture provider. What you really want is a partner, meaning the provider is looking for a long-term relationship instead of just hoping to close the first sale. It takes some time and research to find the best provider for the job, and here is some sound advice to help you on your way.
Think Long Term
Let's be realistic; replacing your reading room furniture is a major acquisition, and it should not be taken lightly. Choosing the first manufacturer you find on the internet could not only turn into a major time-consuming process, but you could make the huge mistake of purchasing a product that will not evolve with your equipment requirements and end up with one that requires service on a regular basis.
I understand you have many choices when purchasing furniture. You can choose the Chevrolet or the Maserati; however, you need to ask yourself if you want to perform this exercise again in 2-3 years or if you want to be set for 10 plus years.
Consider the Lasting Benefits
When choosing an ergonomic sit/stand imaging desk, you should evaluate the features and benefits the new desk will provide, and you should also consider the expected longevity, increased productivity, potential for reduced sick days, etc. Basically, you just want to consider the ROI of your purchase.
Make Sure Your Various Needs Can Be Met
You want to choose a company that has the capability to provide you with options (i.e. the Chevrolet or the Maserati). The imaging desks will need considerably more features than the technologist's desk or the control room furniture, and you want to choose the provider that can meet all of your needs.
Keeping in mind you are busy, choosing the best provider will take work off of your desk and put it on theirs. Ask a few questions up front, and don't ignore the elephant in the room. If the provider you are considering isn't the best fit , you don't want to invest any more of your valuable time.
That being said, let's dive a little deeper. We've come up with a long, detailed list of things to take into consideration when choosing an imaging furniture provider to help ensure you find the best match for your needs.
Warranty:

Does the warranty that's offered cover both parts and labor during the warranty period? Imagine calling your provider during your warranty period and advising them that one of the legs is malfunctioning, and it is diagnosed that the leg needs to be replaced. The provider says a new leg will be sent along with instructions and tools to help replace it. Is that how you would expect the warranty on your automobile, dishwasher or television to work? No, so why settle on your furniture?
Extended Warranties:

Can your provider offer extended warranties if you so desire? This is a question your procurement department might ask you.

Service Agreements:

Can your provider offer service agreements? This is also a question or requirement your procurement department might ask you.

Personal Representative:

Your provider should have a local territory manager to help you through the purchasing process and to act as your advocate, ensuring the process is a pleasant and expeditious experience.

Customer Service:

In today's world of automated phone systems, customer service can be a very painful experience. Hopefully after you make your purchase, it will be a long time before you are tasked with a customer service issue, but realistically, it can and probably will happen. Ask your provider if they have a customer service department, and to go one step further, ask for the phone number and call them. Did you get a real person or a recording during business hours? If your provider is a partner you want to work with, a real person should answer the phone and be empowered to solve your issue(s).
We'll leave off here to let you digest this information, but we'll be back with more experienced insight when we return with part 2 of "How to Choose an Imaging Furniture Provider/Partner" before you know it!