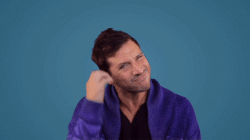 With the continuous trend of increasing monitor sizes, a question we are frequently asked is "how many monitors can fit on a row of a command center console?" In command centers, control rooms, and surveillance areas, monitor wall visibility is often critical for an operator's performance, so you want to try to find the most ideal setup for viewing performance. So, what is the right amount of monitors? It depends on several things.
To help you decide, here are a few key factors to consider when purchasing new monitors for your center:
Corner vs. Straight Consoles Stations
As a rule of thumb (depending on size), straight console stations can accommodate up to five monitors, and corner stations can accommodate up to seven. Of course, the larger the monitors are, the fewer will be able to fit. Straight stations are often used in surveillance areas where it is critical for operators to face directly towards the monitor wall. However, they generally accommodate fewer monitors. Why? Per ANSI/HFES, monitors should be in your primary reach zone, meaning there is equal (or as close to equal as possible) focal distance from each monitor. This requires the monitors to be positioned in an arc.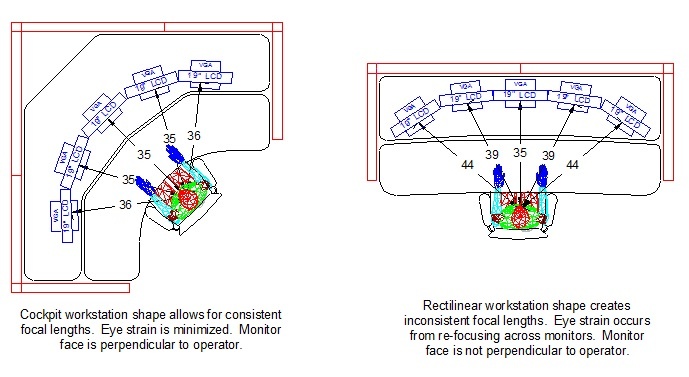 Corner stations typically accommodate more and larger monitors. The workstation "wraps" around you, allowing the monitors to be of equal distance from you. For example, if you would like to have four 24" landscape monitors in a row, and space or configuration is a critical component, a straight station may be best. However, if you have some flexibility and would like to add another monitor down the road, a corner station can accommodate up to five of that size. Download your own copy of the ergonomic design criteria guidelines.
Ergonomics
When it comes to prioritizing comfort and health, it's important that you are picking both a station and a monitor amount that can accommodate the highest ergonomic standard. If you want eight 27" monitors on one row, how can you be an equal distance to all of them at any given time? The likelihood of you having to scoot your chair or walk from one end to the other is high. The goal is to take the time to make sure that you are getting the best possible setup for optimal performance.
Forward Thinking and Quick Stacking
When thinking about your monitor setup, it's important to plan for the future. If you anticipate adding more or larger monitors down the road, check that your workstation can actually accommodate these changes. If you have maxed out your primary reach zone with the monitors on one level, remember you can always stack monitors. If you do, be sure that you can maintain a viewing angle between 15 and 25 degrees below your horizontal line of sight. Remember, tilting up can cause neck strain and further health issues down the line.
Closing Up
At the end of the day, it's natural to have a few questions when thinking about adding new monitors to your workstations. Being thorough will help you make solid choices, which is why it's important to have a knowledgeable partner who can walk you through your questions. This will provide you with the best solution for many years to come.