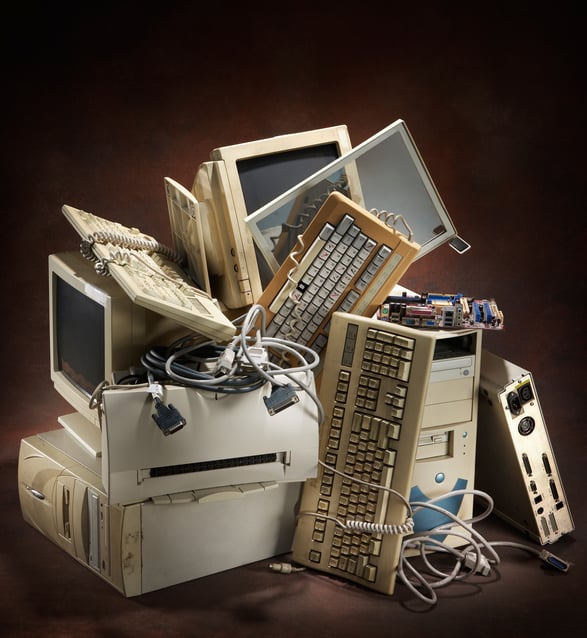 When choosing an imaging desk in the modern day era of 2016, it is important to keep in mind the evolution of equipment you'll need on your desk. You want your imaging desk to evolve as your needs change and your equipment advances. After all, it is 2016 and those monitors aren't the same as they used to be!
Let's look at the features your desk needs have in order to be on par with the current times:
1. Height Adjustability Evolution: "Sitting is the new smoking"
Your desk needs to be able to move from 22" to 48" if it is to accommodate the 5

th

percentile shortest seated individual to the 95

th

percentile tallest standing individual. Both the keyboard and the monitor table tops need to move the full 22" to 48" independently.

It should have push-button height adjustability via electrically-activated legs.

Pre-set sit to stand settings are a must!
2. CPU Evolution: Large and Small CPUs and Cabling.
Keep in mind that your CPU's need to move up and down with your desk to reduce the length requirement of the cables causing resolution drop.


Your imaging desk will also need to have advanced wire management to ensure that the cables don't become disconnected as the desk height is adjusted.
3. Focal Distance Adjustment Evolution: The ability to adjust the focal distance of all monitors at the same time.
Individual Multi-User Adjustment: As morning moves to afternoon and my eyes become tired, moving all of the monitors closer or farther away with one simple and swift movement is essential. Some of us are intense readers and want the monitors very close, while some of us choose to read with more distance away from the monitors.
4. LCD Monitor Evolution: Can your imaging desk accommodate multiple monitors as you add modalities? What about the new heavy 30"+ LCD monitors?
If your imaging desk only accommodates CRT monitors, you are now faced with the undesired solution of using individual LCD arms. A big no, no for the size and weight of the 2016 computer monitors.

Your desk should be able to hold various sizes of LCD monitors on a array which helps to line up all monitors along the bottom or top edges.

If you are using the large 30"+ LCD monitor that is up to 5-6inches deep, you need to have a scissor mount for the thinner support LCD monitors to ensure all of the monitors are flush across the front.

If your desk is not capable of accommodating the new 30"+ LCD monitors weighing over 35 lbs (they can sometimes even reach 55 lbs or more), it is out of date.