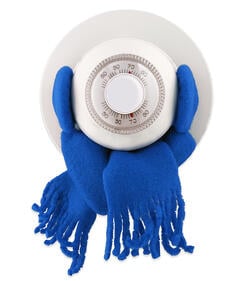 What is the one thing that public safety employees always seem to disagree about in a communications center? Well, there may be more than a few different things on your radar, such as lighting or even a code 7 — can we all agree on a place to eat?
However, working as a 911 Dispatcher in California, the biggest argument I hear again and again in my center is over the thermostat! Can we turn the heat up? Can we turn it down? There never seems to be a perfect setting to suit all workers.
Because public safety employees work in a 24/7 environment, dispatchers find themselves working 10-, 12-and sometimes 14-hour shifts. In this case, the workplace can feel more like home as we find ourselves bringing various necessities into the center.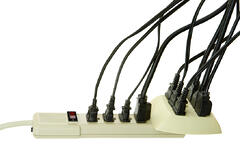 One item I see quite often is personal space heaters. Generally we see these heaters being plugged into already-crowded electrical strips. Does this look familiar?

If you're cold in your work environment, adding one more item to your electrical strip may seem like a good idea at the time. But did you know that most space heaters use 1500 watts and 15 AMP's while on a high setting? Some electrical strips alone will hold only 15 AMP's. So depending on what else you have plugged in, you might be drawing too much power, which will eventually blow the circuit.
This, of course, will upset your manager, your peers and especially your I.T. team, as they'll have to successfully shut down the workstation until repairs can be made.
So can this catastrophe be avoided? I'm glad you asked...
Xybix Systems Inc. has created the MyClimate Personal Climate System, in which you can have your very own personal heater tucked out of the way and attached underneath or inside your workstation's crossbar, as shown below.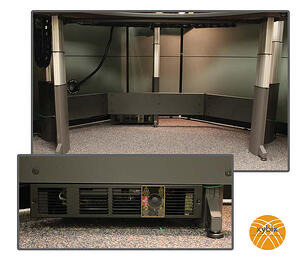 This personal heater runs off its own power source, eliminating the potential for blown circuits. With 1,000 watts of power and only 7.8 AMPS, every dispatcher can have his or her choice to turn the heat up or cool it down, all with a simple push of a button on your MyClimate controller, conveniently located on your desktop. This system will not only help you maintain optimal comfort throughout the workday, but will also cut back on a common workplace disagreement, so everyone can shift their focus to, what's really important — their jobs (and, of course, choosing a place to eat)!
For more information about Xybix's' MyClimate Heaters, please take a minute to view our website and check out the other accessories that Xybix can offer your organization.