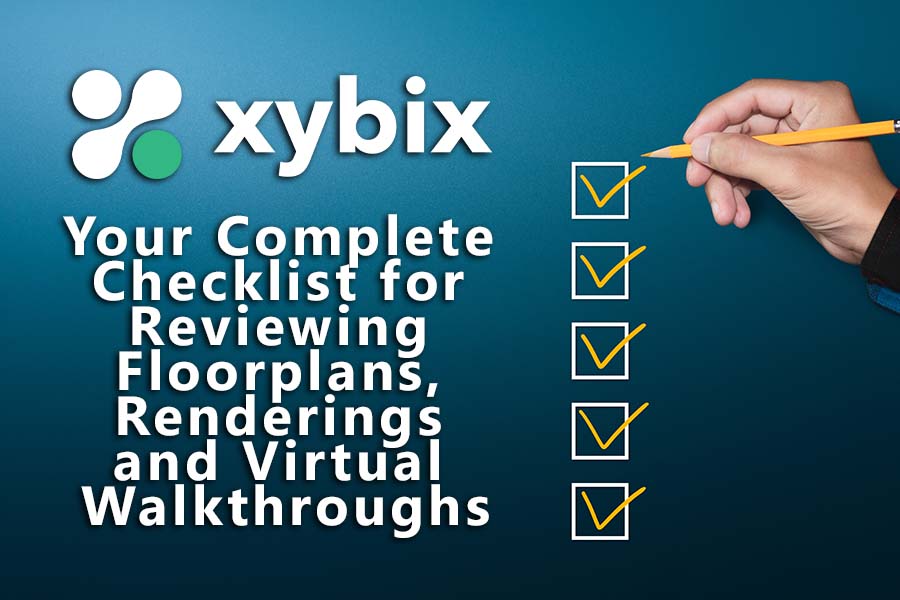 Reviewing floorplans, renderings and virtual walkthroughs is generally not an everyday occurrence for professionals in dispatch, command & control and healthcare centers. In some organizations, the project manager may have two or three remodels or new builds under his or her belt, but most of the time we're talking about a once-in-a-career project. And yet, you're being asked to sign off on a project that runs thousands of dollars and is intended to last 10 to 20 years!
Never fear. If you've done your due diligence, you've selected a technical furniture vendor that provides a designer with education and experience in space planning and project management. A designer you can trust. That said, you still need to review the designer's work and provide approval at various steps in the process. This handy checklist will help you review the design package provided by your vendor.


2D Floorplans: Review the Space and Layout
The 2-dimensional (overhead) floorplans make it easy to review the layout, working from the inside out.
Dimensions:

Recheck the dimensions of the space, especially if it's a new build and plans aren't final.
Number of consoles:

Confirm the number of consoles ordered. A miscommunication or a rapidly growing organization may mean that you need to change the number.
Room features & obstructions:

Ensure that all features and obstructions in the space—columns, raised floors, ramps, ceiling height, fire panels, electrical panels—are included and accommodated in the layout.
Panel systems:

Confirm the inclusion of any panel systems or plexiglass for privacy, managing acoustics and/or physical distancing.
Electrical:

Check that a power source is accessible to all equipment.
Clearance:

For ADA compliance, ensure that the floorplan leaves 3' of clearance around alarm boxes, electrical boxes and doors; and confirm that walkways are 3' wide.
Windows:

If people tend to open blinds or curtains in the room, consider whether the natural light will cause glare on screens.
Sightlines:

If the space includes video screens, ensure line of sight is provided from all consoles.
Accessories:

Make sure all the storage cabinets, lockers, tables for meetings and visitors, bookshelves and the like that you requested are included in the layout.
Room for growth/phased projects:

If your organization is growing or the project will be phased in over several years as funds become available, you might work with your designer on plans for the big picture. You can then review the initial project with the full future state in mind.


3D Renderings: Check the Consoles and Colors
The 3-dimensional renderings are ideal for looking at the individual consoles and color scheme. As with the 2D floorplans, the 3D should reflect everything you discussed with your salesperson and designer. This is your chance to confirm that everything is as expected—and that nothing has changed on your end.

Console shape:

Confirm the shape of each console throughout the layout. Your layout may include a combination of curved and straight consoles, depending on your needs.
Space to stand:

Think about how people in your area work—sitting sprawled out, standing still, pacing about—and how much space they may need beyond the 3' of required walkway space.
Monitor management:

Make sure the rendering includes a typical number of monitors, typical monitor sizes and an easy way to adjust those monitors as necessary. Remember, monitors are not getting smaller over time.
Desktop space:

Make a list of what needs to be on each desktop and ensure that you'll have space. This may include phones, radio, keyboard, mousepad, notepads, etc. Check with IT to see if they anticipate changes in the space you need for technology.
Computers:

Consult IT to ensure that computers are stored according to specifications, such as hanging or in a cabinet with a fan.
Accessories:

Confirm that any requested lighting, climate controls, cupholders, shelving and the like are shown/listed for the consoles.
Colors:

See how the console colors and finishes work with the panels, walls and carpet in the room. In general, you will want to select neutral colors that will stand the test of time.*
*To accurately review color, ask for samples from all vendors. The color you see on a screen is impacted by many factors, including calibration, monitor settings and lighting in the room.


Virtual Walkthrough: Analyze Workflow
Upon request, some technical furniture vendors, including Xybix, can provide you with a digital walkthrough that allows you to really experience the space. If this is not available, you can still take a few minutes to really imagine yourself in the space. This type of virtual visit is ideal for reviewing the layout for workflow and communication issues.
Traffic flow:

Enter the space and take a look around. Are the busiest people—who might benefit from quiet—away from the noisy entrance or on the path to the restroom? Is it easy to travel from one desk or department to the next? Are shared resources such as a breakroom or files centrally located?



Workflow & communication:

Does the layout reflect your workflow, whether it's linear or centralized? Imagine how people will communicate with each other, and if the consoles are in the appropriate places to facilitate that. For example, placing a supervisor in the center can help her or him keep tabs on the department and assist as needed.



Overall vibe:

As you "walk" through the space, be sure to stop, look and listen. Does it feel welcoming, modern, fresh and open? Or dim and crowded? Would you be comfortable coming to work, hanging up your coat, grabbing that first cup of coffee and settling in? Are the colors suited to the space and your job? Do the consoles provide everything you need and more to stay healthy, alert and productive?


Your designer likely considered all the factors above, but it's worth reviewing because things change and evolve. Once you complete the review, share your notes with the designer so you can work together on solutions.
The quality and detail of renderings available today is truly impressive, and you will no doubt enjoy seeing your vision come to life. This part of the experience should be fun and interesting—but you do need to take it seriously. These consoles and this room layout need to work today and possibly decades into the future, so you want to get it right.
All Xybix designers earned degrees in design and are experts in planning spaces and managing projects. Please reach out any time for assistance at any stage in your project.