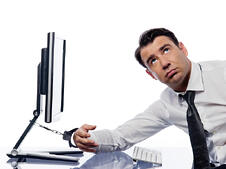 Today, too many of us are strapped to our desks and glued to our computer monitors and keyboards, especially, for the long hours required by most of our jobs in the fields of public safety, security facilities and operations control rooms which can operate 24/7.
We might ask ourselves, "Isn't there another option?" With the recent advancements in technical furniture and ergonomic workstations, the answer is "yes!" Why should managers, directors and supervisors care? Because improper ergonomic positioning can result in work-related injuries and decrease performance and productivity.
If you want to have your employees comfortable, with mobility and flexibility in their work day, then having the right technical furniture can make all the difference. Proper ergonomic workstations lead to less job turnover, better overall health, job focus and can make all the difference in day-to-day tasks.
Here are four things you should consider when choosing technical furniture:

1. Work surface shape.
The shape of your desk has significant ergonomic implications, especially in the 24/7, multiple-monitor, public safety and security work environments. The Occupational Safety & Health Administration or OSHA, recommends using a corner workstation rather than a straight run of desk because it provides additional space and depth to accommodate large monitors or multiple items.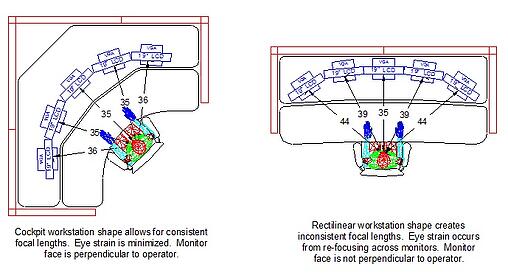 Also, the further the computer monitors are from the user, the more the users eyes have to strain to view the screen. The effect can be lessened by providing an arch or corner workstation for the proper focal depth requirements to remain consistent. This reduces user neck and eye strain improving user ergonomics.
2. User Leg Clearance.
Although this may seem obvious, make sure there is ample room under your workstation for users' legs to be fully extended and relaxed. Leg movement is important for circulation and comfort. Ensure that computers and other equipment are housed off to the side. This will give users the ability to freely adjust positions throughout their work day.
3. Overall Design & Durability.
The main premise behind ergonomics states that your furniture or workstation should support the human(s) that use it, enabling them achieve the operational objectives for which they are responsible. The furniture itself should be durable and able to withstand the environment in which it's used. Proper workspace design can lead to better ergonomic practices and productivity.
4. Cable Management & CPU Access.
Proper cable management and CPU access can make a world of difference in user ergonomics. Keeping the desktop free of cluttered cabling, as well as keeping the under surface free from cord clutter can help users stay focused and prevent accidental disconnection.
Don't forget to ask yourself: Where does the computer go? A desk can look really good online or in a catalogue, but often times overlooked is the equipment that the user will be utilizing is overlooked. Where does it all go? Is there ample storage for all of the equipment?
Again, equipment should be located off to the side of the desk allowing technicians to have easy access for maintenance and repairs without disturbing the users. CPU cooling fans and vents should be utilized in any CPU storage unit to provide proper ventilation and keep equipment cool and functioning.
Even if we are strapped to our desks for 8, 10, 12 or more hours, comfort and ergonomics can make a world of difference in keeping users focused, healthy and happy. Centering your design and workstations on a functioning, ergonomic furniture product can help prevent workplace injury. Preventing injury starts with choosing the right technical furniture explore your options and make the right ergonomic and health choice for your people.