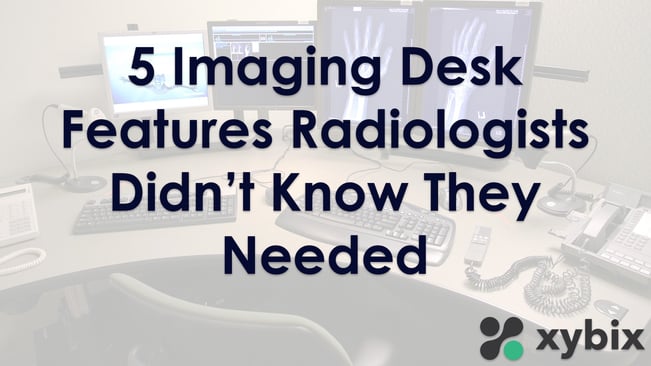 Over the last 25 years, I've talked to a lot of people, including radiologists. I've learned what they need in an imaging desk—things such as sit-to-stand flexibility, easy ways to manage large arrays of monitors, cable management, task lighting, and bias lighting. And then I always enjoy talking to radiologists about features they probably didn't know they needed.
Built-in Cupholder
If you've ever cleaned coffee out of a keyboard or shorted out a laptop because you spilled liquid on it, you know why you need this. In dim reading rooms and offices, your drink of choice remains handy without risk of spilling. And we're not talking about a desk clip-on here. You need a cupholder that accommodates cups, cans, and bottles, and swings out of the way when it's not in use.
USB Charging Hub
Imagine the peace of mind from knowing that your phone or tablet is always nearby and fully charged. Charging ports should be easy to access while sitting or standing at your desk and should enable a key, mouse as well as phones to be plugged and unplugged without having to crawl under the desk. They should also keep cords organized and out of the way.
Custom Lighting
In a dim reading room light control is very important. As one study notes, "When people have control over the lighting in their work spaces, their moods are more upbeat, they are more committed to their employers and they have overall improved well-being." Plus, as a senior consultant with a major architectural firm reports, "Employees prefer to adjust their own lighting based on their sensitivity and needs. This in turn increases workers' productivity." Bias lighting or lighting behind the monitors should balance the brightness coming off the displays. This reduces eye strain and fatigue which affects visual acuity. Task lighting is important to light up items on the desktop without casting glare on the monitors. Having the option to select different colors throughout the day to complement or impact their circadian rhythms is also beneficial and the color blue has been shown to improve visual acuity and minimize visual fatigue.
Personalized Heating and Cooling
We all know that temperature is a personal preference. But the thermostat in a reading room can only be set at one number. OSHA recommends that offices set the temperature to 68°–76°, a broad range for starters. Once you settle on a temp, you can be sure that plenty of people will find the room too cool or too warm.
Working while too cold or too hot are both annoying, sure, but they are also shown to increase errors. When it comes to cold, a Cornell University study found that employees in an office at 68° made 44% more errors than the office at 77°. Meanwhile, employees in overheated rooms fare no better, according to a NASA study that showed errors increasing incrementally as the room got hotter.
The answer is to have heaters and fans at each imaging desk so each radiologist can work at their own perfect temperature. Plus, unlike a thermostat that may be locked down by management, each person can customize the temperature throughout the day.
One-Click Ergonomic Customization
All the great features on an ergonomic workstation won't do you any good if you don't take the time to customize them to your liking. But, unfortunately it is easy for people to forget to take the time to adjust the desk height, monitors, lighting, temperature, and more at the beginning of a work day
While individual control over all the ergonomic desk setting is typical and important, it is easier to address the above issues if a software application can be used to adjust all parameters to personalized and saved settings. Users should be able save scenes to fit different moods and time of day or night, maybe starting a shift standing with a heater on surrounded by stimulating red lights and wrapping up a shift sitting with the fan on in surrounded by calming blue lights. And all this should be controlled by an app on your phone or tablet.
Home Away from Home
While imaging desks are often shared, a PACS workstation is your home away from home for each radiologist who works at it. Imagine arriving to start your day, placing your coffee in the cupholder out of the way, plugging in your phone for easy access, and selecting an ergonomic scene to quickly create the perfect ergonomics, temperature, and lighting for you. You may not know you need these features but you are sure to love them!


We would love to show you our desks in person! If you're attending RSNA 2023, stop by our booth. We're Booth #7933 on Level 3 of the North Hall (See Map Below):