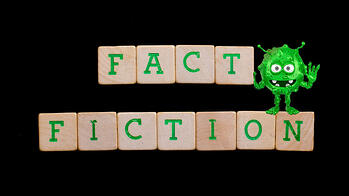 So you've heard rumors about a UV-C air filtration device for 911 Dispatch Centers that can help reduce 99% of airborne bacteria. But does it actually reduce illnesses? Fact or Fiction?
The answer is...FACT - it does!

Did you know that the most effective air purifier is natural sunlight? The invisible "C" band deactivates the DNA and kills dust mites, bacteria, viruses and other pathogens. Since our buildings block out most of the sun's UV rays, our indoor air pollution is sometimes 100 times higher than outdoors. Christine Whiteman, an EPA administrator says "Indoor air quality has a great deal to do with children's health, particularly when you're talking about asthma."
What is UV-C Light?
For almost 100 years, UV-C light has been used to eliminate bacteria and other microorganisms in air, liquids, or on surfaces. The medical industry has also been using UV-C light as a reliable disinfectant for medical equipment. The first use of this technology was in France in 1909 to disinfect their water system.
Here are a few case studies that give you an example of how effective UV-C light is on germs:
One case study took mice that were infected with bioluminescent strains of gram-negative, Pseudomonas aeruginosa, and Staphylococcus aureus (aka Staph infection). The mice that were treated with UVC light on their wounds reduced the bacterial contamination ten times better than the untreated mice and even increased the survival rate by 58.3%.
Another study took a machine with 8 UV-C bulbs and mounted it in multiple hospital rooms and it was turned on for 45 minutes a day to eradicate bacteria. The number of bacterial CFUs (colony-forming unites) fell by 98.1%.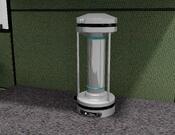 This same technology to kill germs is used in Xybix's Airborne Germ Eliminator. This fan, pulls air in through the bottom and then bounces the air around a 9 watt Ultraviolet-C light bulb. The UV-C light disinfects the air of airborne germs, bacteria and mold spores, then the clean air flows out the top.
If you are still not convinced of the benefits of using UV-C light as a germ killing mechanism in your Dispatch Center, read more on how Red River Regional Dispatch Center is killing germs.
The True Test - Red River Dispatch goes germ free!
The Red River Regional Dispatch Center in Fargo, ND (RRRDC) installed an Airborne Germ Eliminator or a UV-C air filtration device, at each workstation. This device sucks in air, dust, or mold spoors and filters them through a special UV-C light filter killing 99% of bacteria. Byron Sieber, the Director of RRRDC said "the Xybix antimicrobial laminate and Airborne Germ Eliminators have been a very welcomed addition to our Dispatch Center. This is the first cold and flu season since their deployment and we are anxiously waiting to see if our sick leave is reduced and what type of outbreaks we may or may not have, versus the general public."
Byron goes on to say, "So far, there has not been any unusual use of sick leave even though we have heard of some flu outbreaks locally. I do have to admit that I have heard fewer people complaining of cold symptoms and there is a lot less coughing and sneezing going on. Let me say that again… a lot less!"
Byron also commented on the bulbs and particles captured by the UV-C filtration device. "The Airborne Germ Eliminators have filtered out a lot of particles in the air, which we notice every time we change the bulbs. And, I should preface that statement by saying that we had the room cleaned and the air ducts professionally cleaned before we started using them. We run them at all eight workstations pretty much 24/7. This in-turn requires that we change the bulbs about every 4 or 5 months, but to us, this is money well spent."
The Airborne Germ Eliminators have also gathered a lot of attention from local media outlets. They even ran a story on them creating inquiries from other agencies. Even some of the local Health Officials that toured RRRDC were very impressed by them and when they went back to their own offices and decided to order them for the hospital.
Byron wraps it all up by saying, "The bottom line is… I would definitely purchase them again and recommend them to anyone that might be interested."
The FACT is, YES, there is a device that can help you stay healthier in the 911 Comm Center.
Does it really work? Find out for yourself.