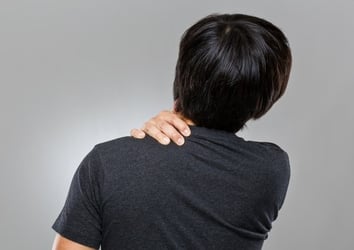 When you first read the title of this blog, what were you really thinking? Were you ready to respond with names, or did you answer with just a simple yes or no? Working in a 911 Comm Center myself over the past 25 years, pain is a topic I hear quite frequently. If you or someone you work with suffers from neck pain while working, here is a remedy to address that problem and prevent it from occurring in the future:
Monitors
Ten years ago, nearly everyone working in Comm Centers had 19-inch monitors. There would most likely be 3-5 of them sitting right next to one another in a single row. Now with the new age and the surge of advanced technology, most PSAPs are working with 24-inch monitors or larger, which means stacking monitors. What can happen when you stack monitors? Employees have to tilt their heads back to view the top rows, and this means incorrect ergonomics harming dispatchers head, neck and shoulders. In a worst-case scenario, this type of repetitive strain and pain in the neck could result in the loss of an employee to a sick call or a workman's comp issue.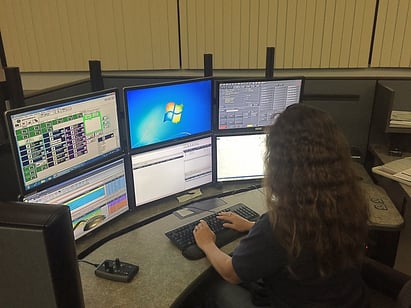 How Can We Correct This?
In the picture above, you will see that the employee is sitting at a dual surface corner position. Notice that she is working with six 24-inch monitors ( or 3 over 3). All of these monitors are fixed to an arc frame and sit on top of a rolling platform called Rollervision. Notice that the bottom monitors sit approximately one inch off of the back surface. If you look at this employee, her eyesight is well above the bottom monitor and almost in direct line with the top monitor.
How Did We Accomplish This?
If you look at that first picture again, it appears that the front and the back surfaces are in line with one another, right? It might seem that way, but they actually are not.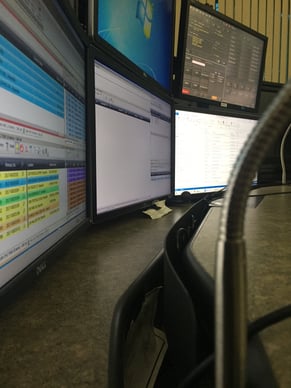 If you look at this picture posted above, you will see that the "back surface" of the workstation has been lowered by a couple of inches. This allows for the end user to view all six monitors in a correct ergonomic angle. This type of adjustablilty is also an advantage of having a dual surface console vs a single surface.
By Lowering the Back Surface, Will You Be Able to See All of Your Monitors?
You most definitely will, and the proof is in the picture. With this setup, the pain in the neck has been taken out of the Comm Center.
Xybix Workstations and Monitor Configuration
In summary, with the purchase of any new consoles, it's important to always take into consideration the number of monitors you will have and the way you plan on mounting those monitors. If you and your employees are having to tilt your heads back to view any monitors, you should really look at another option.